|
First, I'd like to thank the Photo Club Esch for the invitation to give a lecture. It was easy and wonderful for me to show the presentation to the very sympathetic and enthusiastic members of the club, because the atmosphere was welcoming and warm, and the dialogue happened naturally. This was definitively not the last time I had the pleasure to share some good moments together with all these nice people.
The PCE was founded in 1919 and is now organizing its 50th Salon Mondial de d'Art Photographique. The exhibition of this annual contest will be held in June. I look forward to this 50 anniversary edition this year.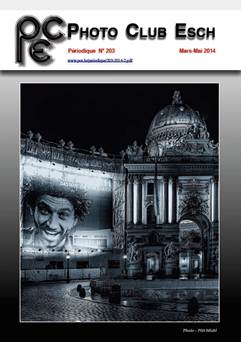 Amongst all the other activities, the club releases its own printed magazine 6 times a year with a bunch on practical information, latest pictures of its members and other information about ongoing activities, lectures and exhibitions. I am very thankful for the respect granted to my work in the latest edition. You may download the article by clicking on the cover picture.