|
I am happy to announce that one of my photographs has been chosen as the bookcover for a novel from Javier Cercas.
Javier Cercas (born 1962 in Ibahernando) is a writer and professor of Spanish literature at the University of Girona, Spain. He is one of a group of well-known Spanish novelists, which includes Julio Llamazares, Andrés Trapiello, and Jesus Ferrero, who have published fiction in the vein of "historical memory", focusing on the Spanish Civil War and the Franco dictatorship.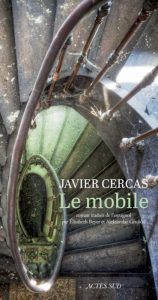 "Le mobile" (El móvil), first and short novel by Javier Cercas published in 1987, and translated in 2016 by Élisabeth Beyer and Aleksander Grujičič for the publishing house Actes Sud, is the story of a man named Álvaro, employed in a law firm who dreams of writing a big novel. Working hard on his novel, he will demonstrate that he is ready to truly subordinate his life to literature.